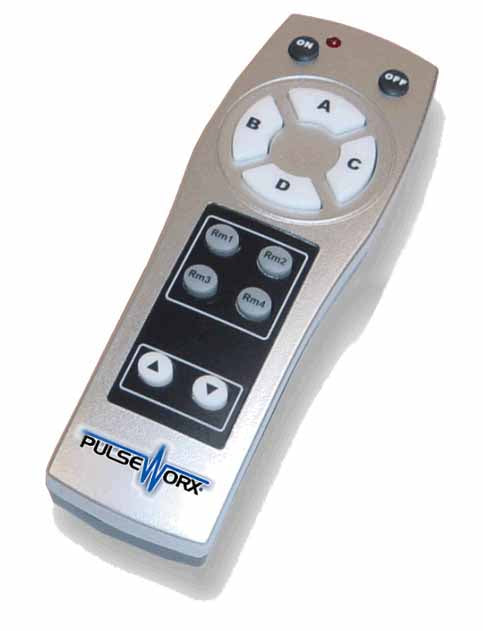 PulseWorx IRR-2: IR Remote - Handheld Remote Controller for KPC-6, 75ft Range
The IRR-2 is a small infra-red remote control which reproduces all of the push-buttons on the 6-Button Keypad Controller. Pressing a button on the IRR-2 causes the KPCx-6 to perform the same action as if the same push-button were physically pressed, to turn on and off lights or activate scenes from the comfort of your family room couch or chair up to 75 feet away! 

Quick Instruction:

After inserting batteries, press Rm1, red LED indicator lights up
Point to a KPCx-6 and press button
LED on KPCx-6 should react accordingly
If not, try Rm2, Rm3, or Rm4 and repeat step 2
Specifications

Power Requirements - 2/AAA batteries (not included)
Connections/Power Wire - None
Environmental Conditions
Indoor Use Only
Temperature: -40° to 194°F (-40° to 90°C)
Humidity: 10% to 90% RH (non-condensing)
Limited quantities available!  Item will be obsolete once sold-out!