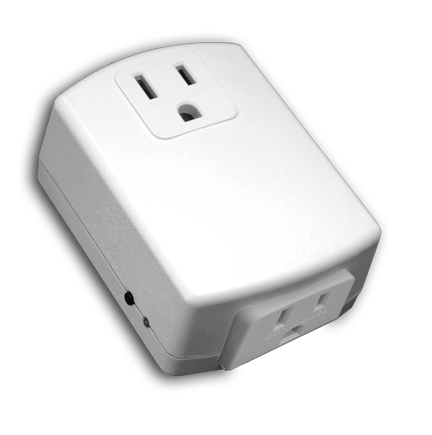 SWX-SST - Sunrise Sunset Timer, 120V output, 15A MAX load
The Sunrise Sunset Timer (SST) features an astronomical clock which is capable of turning 120VAC devices ON and OFF based on one of the (10) ten preset daily schedules. It is also remotely controllable with digital SPC™ (Simple Powerline Communication) commands received from up to eight different SimpleWorx Transmitters and has a manual override button.

The extensive astronomic settings will cover Northern and Southern latitudes from 0-60 and Eastern to Western Longitudes from 60 -125, plus 135 & 165 to include Hawaii and Alaska. The on board clock automatically adjusts for Daylight Saving Time and Leap Year.

The professional grade standards include a 40 Amp Relay capable of 100,000 relay cycles with operating temperatures of -40F to 140F which features an internal high temperature protection sensor to automatically shut off at 185F which resets at 167F to safeguard against overheating failures which are backed by a 10 year warranty.

In the event of a power interruption, the heavy duty 125mA battery will protect the factory set clock for 10 years. The non-volatile memory protects programming indefinitely and the power failure restore feature resets to the last state.

Programming is as easy as pressing a button to set the schedule choice, time zone, and observation of daylight savings time, location latitude and longitude.


Pass-Thru Oulet (Always On)

New!

 Ergonomic and uniform design.

New!

 Pre-programmed to your location - DUSK-MIDNIGHT ON/OFF by default.
Scheduling

10 On/Off daily programs
Daylight Savings and Leap Year Compensation

Remotely controllable from up to eight SWX Transmitters; no control wiring 
Manual Override Button 
Astronomic Daily Dusk/Dawn calculations for

0o-60o

 

for Northern and Southern latitudes
66o-125o

 

Eastern to Western longitudes
135o

 

& 165o

 

for Alaska and Hawaii

Power Outage Backup

Long life 10 Year 125mA Battery
Permanent schedule retention 
Power failure restore to last state

Super Simple button press set-up and review of:

Schedule
Time Zone 
Daylight Saving Time
Latitude and Longitude 
Time Clock Settings

Built for Professional Use 

Timing Accuracy 
1 Min @ 0o

 

C to 40o

 

C per year
1 Min 45 Sec @ -40o

 

C to 85o

 

C per Year
Operating temperature of -40o

 

F to +140o

 

F

Internal High Temperature Protection

185o

 

F -85o

 

C – Shut OFF
167o

 

F -75o

 

C – Reset ON 
40 Amp Relay, 1½ HP Motor Load
100,000 Relay Cycles

Links to SPC Transmitters in seconds
Power failure restore to last state
10 Year Warranty