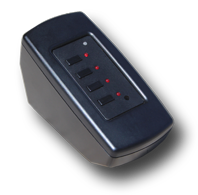 SWX-DKT4 - Desktop Keypad Transmitter - 4 Button
The Desktop Keypad Transmitter (DKT4) is a tabletop controller which provides control of four groups of SimpleWorx receivers anywhere in your home or office. Each group can have one or multiple receivers. The DKT4 plugs into any standard electrical outlet.

The keypad instantly communicates to the desired group of SWX devices associated with the button and all devices programmed to listen for commands will react by turning their connected lights on/off accordingly.
Capable of controlling four groups of SWX devices 
Each group may have one or more receivers 
Plugs into any standard outlet 
Remote On/Off from anywhere in a home
Simple Press and hold setup