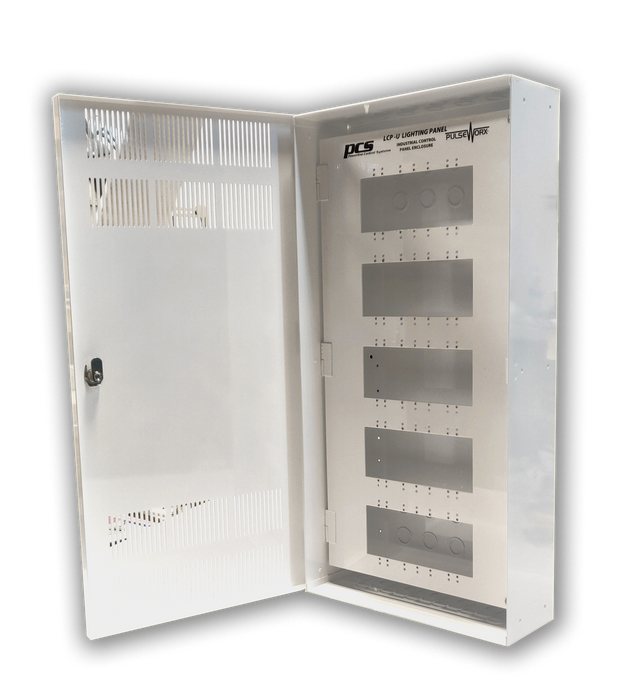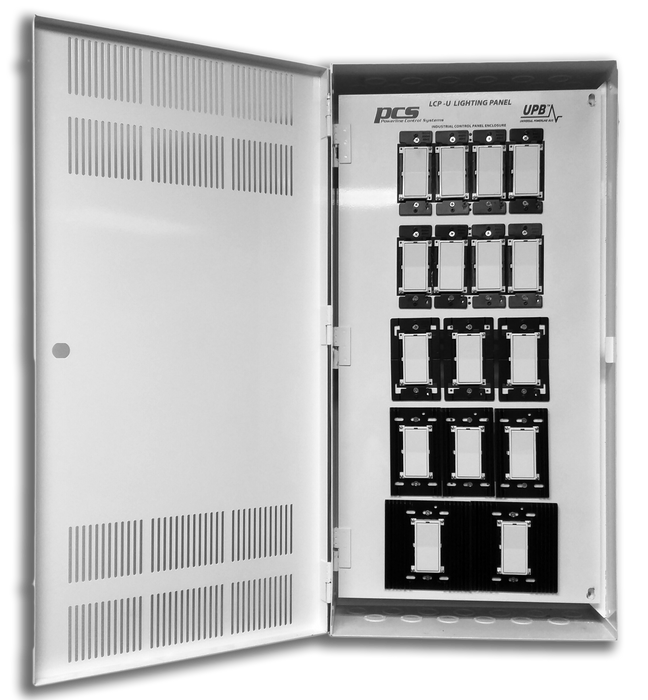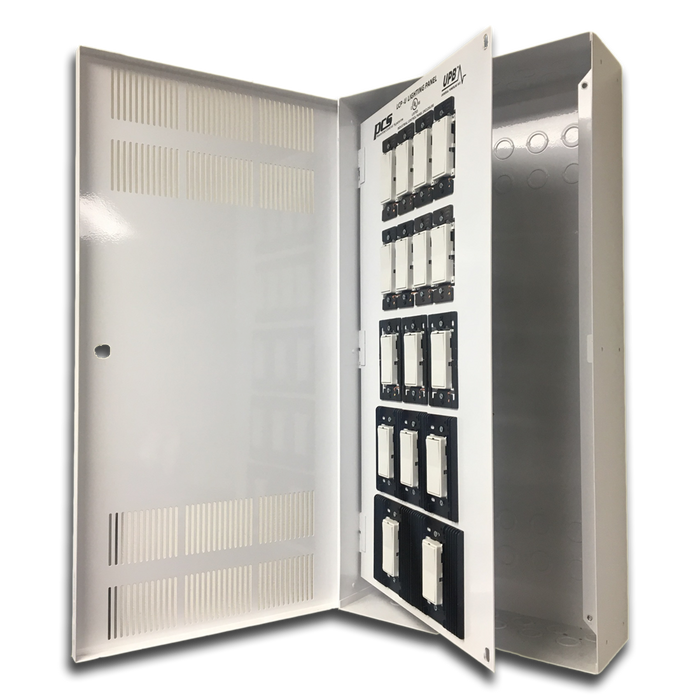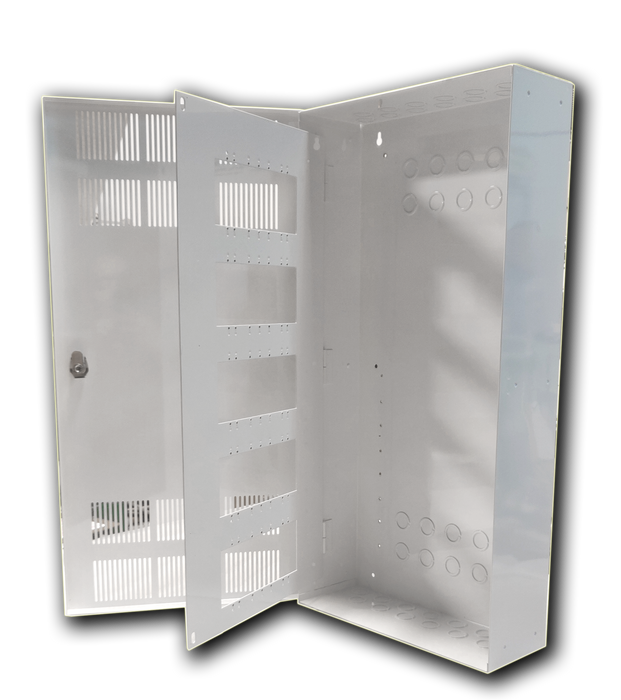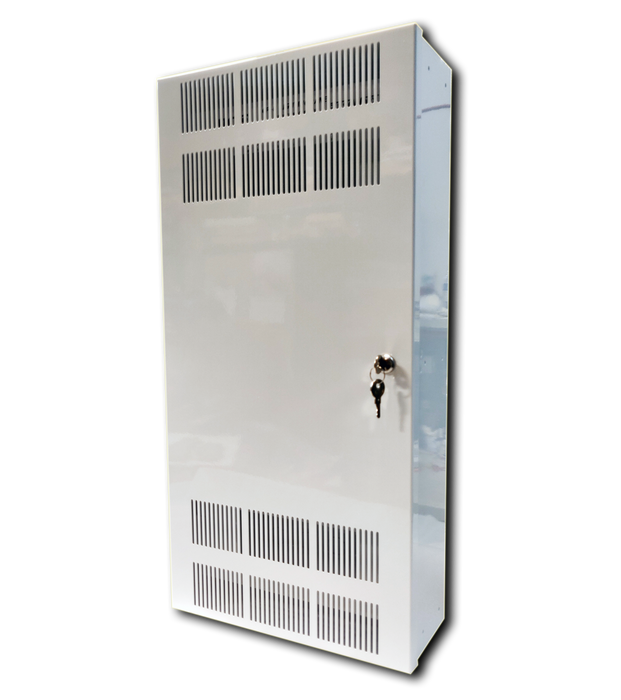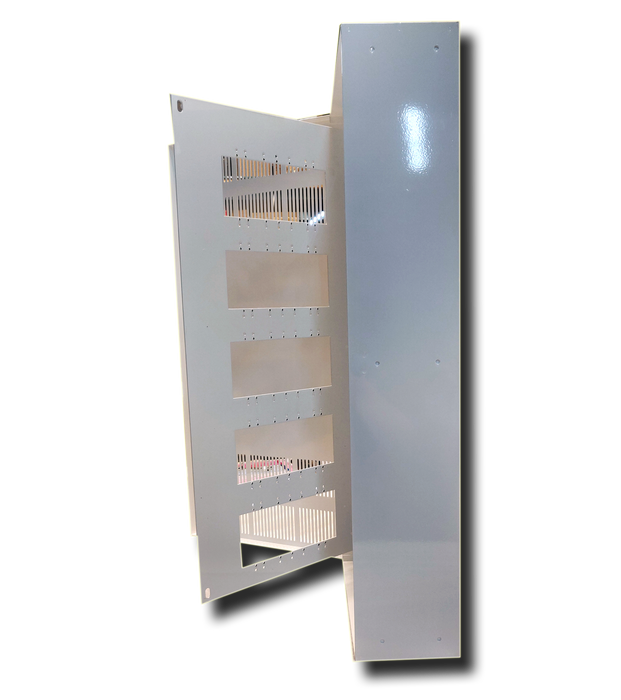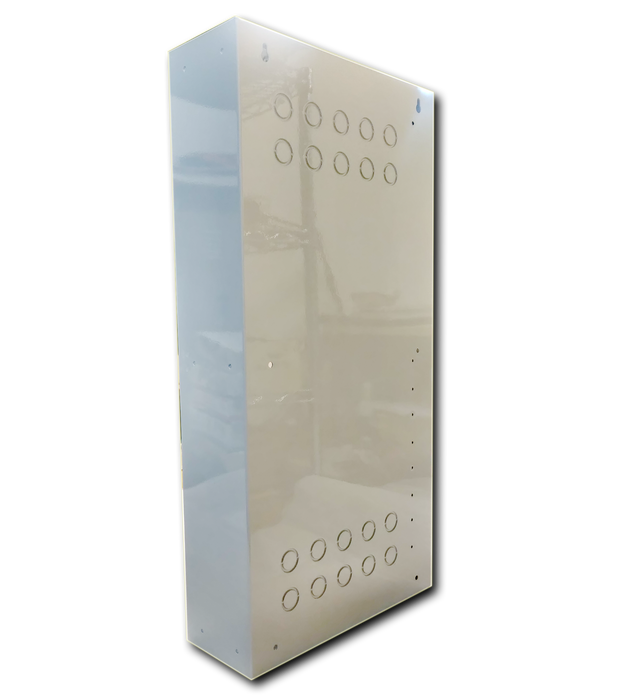 PulseWorx LCP-U: Lighting Control Panel Unit for centralizing PCS, Lutron, ZWave, any other Switches/Dimmers
The Lighting Control Panel has many features that make it perfect for centralizing lighting controls:
Get switches and load controls into closets or electrical rooms and only put keypads in key room locations.
Once you have good communication with the LCP-Us locations you have good communication with all load controls.
Holds standard size switches and keypads from many manufacturers.
Configured as (5) 4-Gang positions. Mounts 20 normal single-gang devices, like 600W switches.
Both the door and inner panel lift off hinges for easy wiring and installation.
Comes with lock and key.
For example, with PulseWorx devices, it can hold up to (10) WS1DL-24, (15)WS1DL-15, or (20) WS1DL-6 dimmers
Designed to be flush-mounted between two 16-inch center to center studs or surface-mounted on any flat surface
De-rating is not needed as all the heat generated by high-power lighting controls is properly dissipated in the very large panel space.
Many customers use for Lutron Ra 2/3 and Pico devices, so experience indicates the box is not a problem for RF reception.
The inner panel comes with the LCP-U, but can be purchased separately for customers with old panels that had a different inner panel (10 years ago). 
A few important notes on ordering:
Due to their weight, LCP-Us are always shipped UPS. 
Any order with a LCP-U will have the entire order shipped UPS.  
Package dimension: 33" x 18" x 10" ~30lbs
Dealer/Installer? Contact us for dealer pricing!
Please note:

LCP-U cannot be shipped to PO Box (USPS). UPS shipping only.



Not getting dealer pricing? Want to know how to become a dealer/installer? Send an email to PCS Sales Team and we will provide information about our dealer program.
ELECTRICAL

 

Certifications

Safety tested for USA and Canada to ETL tested to UL508

UL-508-2010  CSA C22.2 #14-2010

MECHANICAL

 

Button Type

None

Mounting

Screw Surface Mount

Dimensions

Height: 29.0 in Width: 14.5 in  Depth: 5.0 in

US Patent No.

6,734,784; 6,784,790; 7,265,654; 7,688,183. U.S. and foreign patents may be pending.